AI Face Retoucher to Retouch and Enhance Portrait Photos Automatically
"How do you retouch a portrait photo? What is the best app for retouching photos?" - Pratyush Gautam
Do you have the pressing need to publish perfect and beautiful selfies to Facebook or Instagram and make your friends go "Wow" but have no idea how to retouch and enhance a portrait photo? There are various portrait retouching software for you to beautify portrait photos instantly like retouching skin, removing freckles, enhancing eyes, adjusting lighting and more.
Now let's start our journey on how to retouch portrait photos automatically using AI Portrait Retoucher.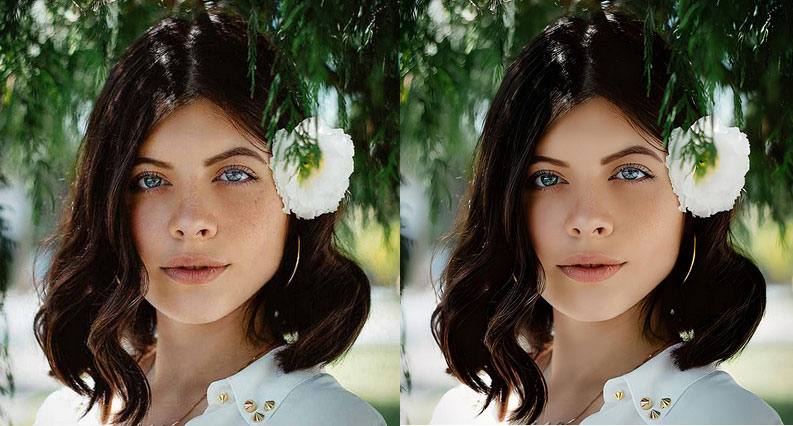 Part 1: How Can I Retouch A Photo
Photo retouching involves adjusting brightness, colors, removing blemishes, and other imperfections. Through doing this procedure, your photo will become stunning and more presentable. There are many great photo retouching apps available like Adobe Photoshop for you to create a beautiful, eye-catching portrait. Compared with the traditional portrait editing software, AI Photo Retoucher helps retouch photos up to DSLR camera quality effortlessly. It allows users to adjust photo brightness, color saturation, contrast, and more 100% automatically. No halos, no artifacts. No photoshop skills are required.
1. Fully automatic face retouch
2. Skin makeup (skin smoothing, including removal of face shine, grease, sweat, imperfections and wrinkles)
3. Eye makeup to enhance eye color and sharpness
4. Red eyes removal
5. Eye makeup to enhance eye color and sharpness
6. Color enhancement for adjusting the lighting on the face
---
Part 2: How to Retouch Portrait Photos
AVCLabs Photo Enhancer AI is one of the best AI Portrait Retouching software that enables users to automatically enhance portrait photography in batch. With deep learning and AI photo retouching technique, this photo retoucher can bring out more color saturation, contrast, and details to make your photos pop in seconds. This AI portrait editing software makes every detail of the portrait clear to see by converting it to high resolution.
It also supports cropping unwanted parts before improving the image quality. Input photo formats such as JPG, JPEG, PNG, BMP, JFIF, WEBP are all supported. Before retouching the portrait photos, you can set the output photo format you prefer.
Photo Enhancer AI
Enlarge and upscale image without losing quality.
Sharpen image edges and deblur image 100% automatically.
Upscale low-definition photos to HD.
Enhance color and contrast with only one click.
Remove backgrounds from a batch of images automatically in one click.
No editing skills are needed.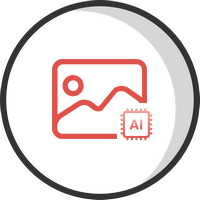 Retouch Portrait Photos Using AVCLabs Photo Enhancer AI
Simple interface and fast processing speed are empowered so that you could retouch, improve and brighten your portrait photos with fewer steps. Then let's take a look at the step-by-step instructions.
Step 1
Install and Run AVCLabs Photos Enhancer AI
Download AVCLabs Photo Enhancer AI from the link given above and then run it after the installation is completed.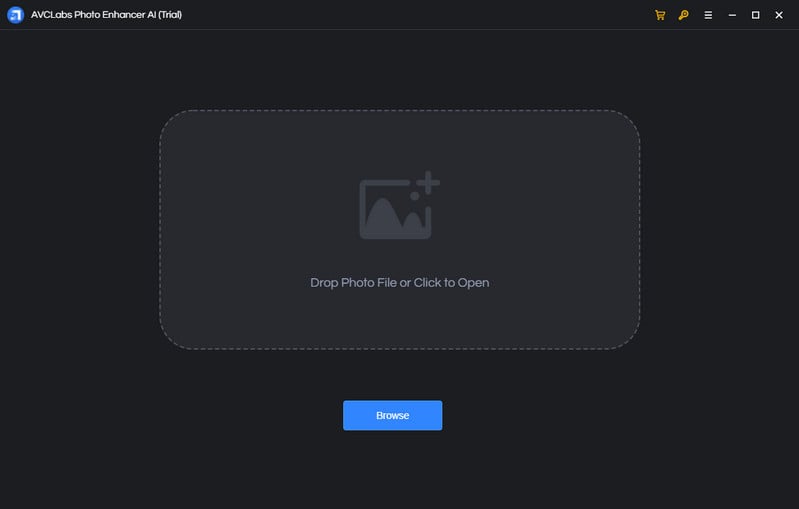 Step 2
Add One or Multiple Portrait Photos to AVCLabs Photos Enhancer AI
Simply click on the Browse button in the middle of the software to add one portrait photo or a batch of portrait photos to the program. You can also directly drag and drop the portrait photos you need to enhance from the computer to the program.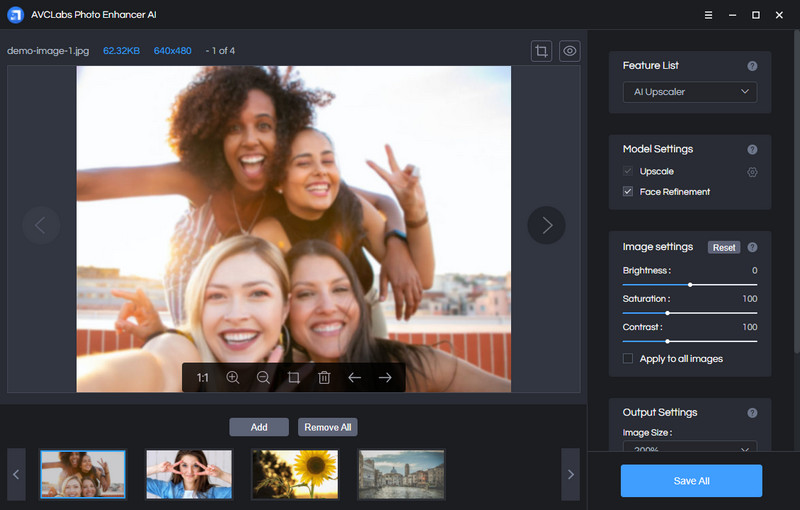 Step 3
Select the Processing AI Model and Set the Output Format
In the upper-right panel of the software, you can choose the AI Model you need. There are 5 AI models for your option: AI Upscaler, AI Denoiser, AI Color Calibration, AI BG Removal or AI Colorizer model.
To enhance the quality of the portrait photos, simply select the AI Upscaler model. The AI Upscaler model helps you easily convert any low-quality and blurry portrait photos into amazingly high-resolution.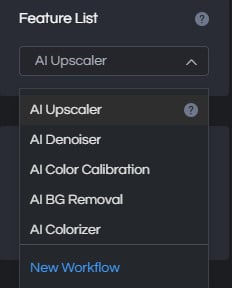 You are able to click on Image Size to select to upscale image size to 100%, 300%, and 400%.
To retouch the portrait photos, you can turn on Face Refinement to detect and enhance every detail to make your subject look great.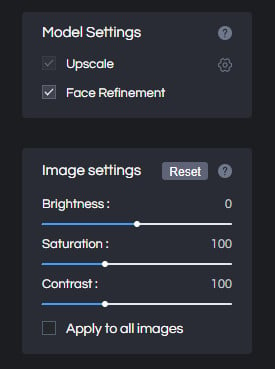 Before retouching and enhancing the portrait photos, you can set the output photo format you prefer. It supports exporting photos to JPG, JPEG, PNG, BMP format. Just click on the Image Format option from the drop-download list to select the output format you need.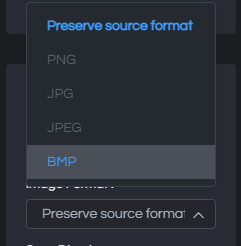 Step 4
Crop and Preview the Photo Effect before Retouching the Portrait Photo Quality
There are two little icons in the top right corner of the main interface. You can click on the left little square icon to crop the portrait photo.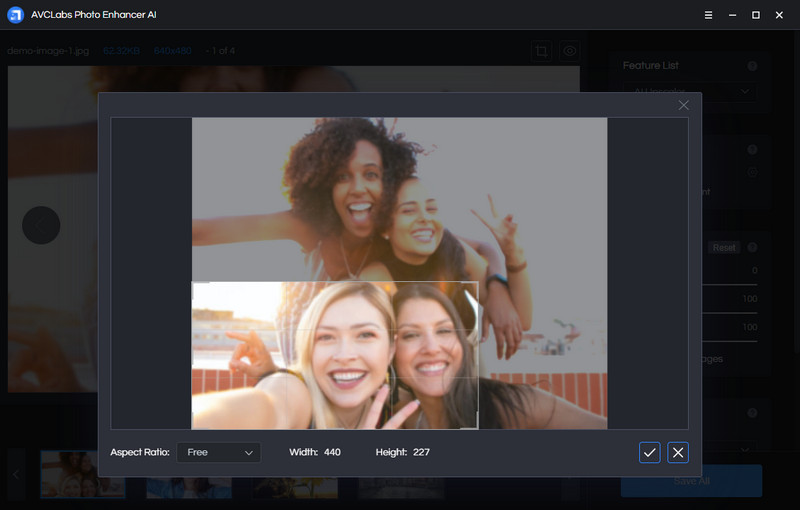 You can also click on the right little eye icon to preview the effect before enhancing the portrait photos.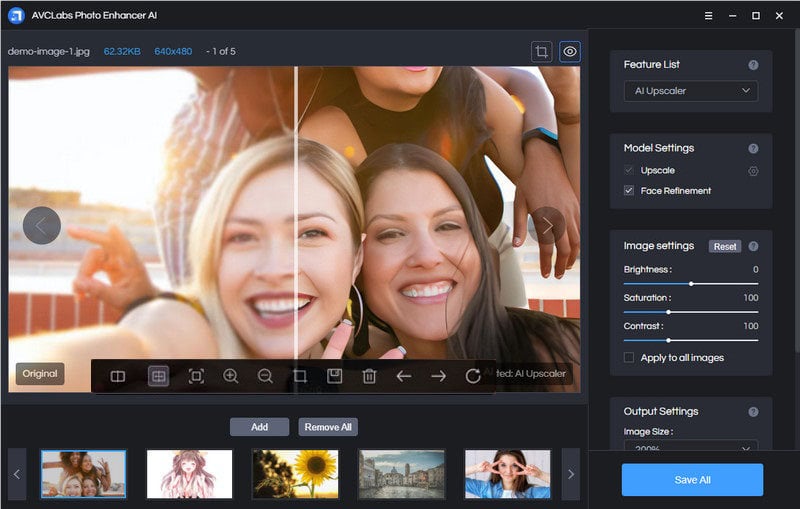 Step 5
Start to Enhance Images
Click on the Save All button to start retouching the portrait photos. All you need to do is wait for the AVCLabs Photo Enhancer AI to retouch and enhance the portrait photos' quality and color automatically.
Once the portrait photos enhancement process is done, you can click on the Open Output Directory button to find and check the improved portrait photos.
---
Part 3: Portrait Photo Retouching Example
Now, let's take a quick look at the result of portrait photo retouching.
The retouched portrait photo (right) below is an improved version of the initial photo (left). It is significant to see the girl on the right side with smoother skin and more brighten smile. The face of the subject is not anymore blurry and the colors have better contrast. Eyes are also enhanced and sharpened.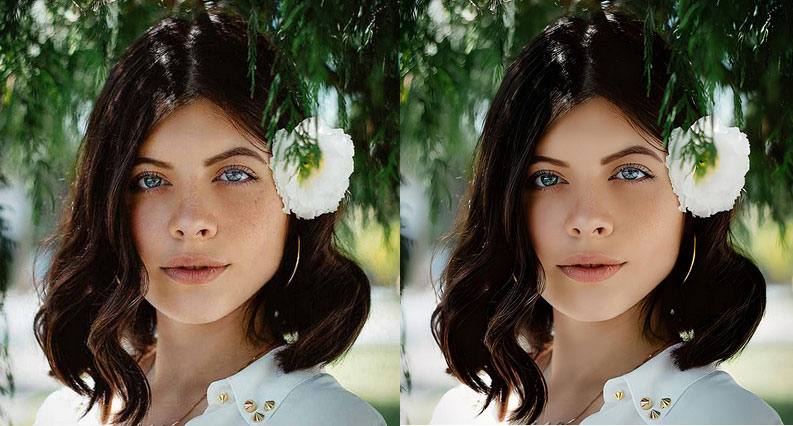 ---
Conclusion:
In a word, this AI Photo Retoucher can automatically retouch your portrait photos and improve the overall photo quality. With only a few clicks, you can increase the resolution of your portrait and significantly enhance the portrait photo details with smooth skin and a clear face. Thanks to its intuitive interface and navigation layout, portrait photo retouching can be as easy as dragging and dropping for both beginners and professional photographers.
Try AVCLabs Photo Enhancer AI to breathe new life into your old photos!
---

Video Converter

DVD Converter

Video Editor

Enhance Video Quality

Enhance Image Quality

Remove Objects