How to Remove Blur from Images Online for Free
"How can I remove blur from a picture online?" - Stephen Robeck
Removing blur from images online for free is a wise choice if you intend to share your picture right away on your online store, or social media. Fortunately, there are various efficient ways to fix blurred images. If you use the right photo enhancement tool such as AVCLabs AI Image Sharpening Online, removing blur from photos can be as simple as one click. No matter if it's caused by a shaky camera or moving objects like your pets, motion blur, blurry faces can be easily fixed. Users can deblur images directly on the website intelligently and automatically with stunning results. No complicated software is needed.
In this post, we would like to share how to remove blur from images online for free using the AI Image Sharpening Online Tool. Now, let's get started.

Part 1: Why Do You Need Remove Blur from Images Online
It often becomes a situation where you have an image and its size is appropriate but the image has blur. Any digital camera always blurs an image to some extent. It could be motion blur, defocus, or just manually blur. In this case, you need to unblur the image.
---
Part 2: How to Remove Blur from Images Online for Free
AVC AI stands out among plenty of free AI Image Blur Removing online tools. As a free online web-based photo editing tool, it is fully compatible with all devices to deblur images instantly. Through training on millions of blurry images and utilizing artificial intelligence, this image sharpener does a great job in detecting and removing blur from images in a few seconds. No advanced Photoshop skills are required to fix blurry images. Additionally, it enhances and upscales the blurred, low-quality image resolution while deblurring the image.
What's more, it comes with multiple AI models including Upscale, Face Retouch, Denoise, RemoveBG, Colorize, Calibrate. Users can get a better experience in enhancing images. Plus, the intuitive interface and layout navigation makes it user-friendly for beginners.
Key Features of AVC AI
Enlarge and upscale image without losing quality.
Sharpen image edges and deblur image online 100% automatically.
Upscale low-definition photos to HD.
Enhance color and contrast with only one click.
No editing skills are needed.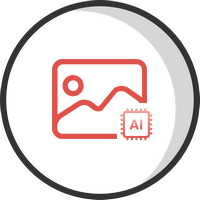 Here are the simple steps to remove blur from images online for free.
Step 1
Upload One or Multiple Blurry Images to AVC AI Image Blur Removal Online Tool
First, drag and drop one or multiple blurry images directly to this AI Image Sharpening Online Tool or tap on the Click to upload button to add the blurred image you want to fix to this online image sharpener. Please keep a stable and fast network condition during the image blur removing process.
Note: The supported input image formats are: *.png, *.jpg, *.jpeg, *.bmp, *.jfif and *.webp.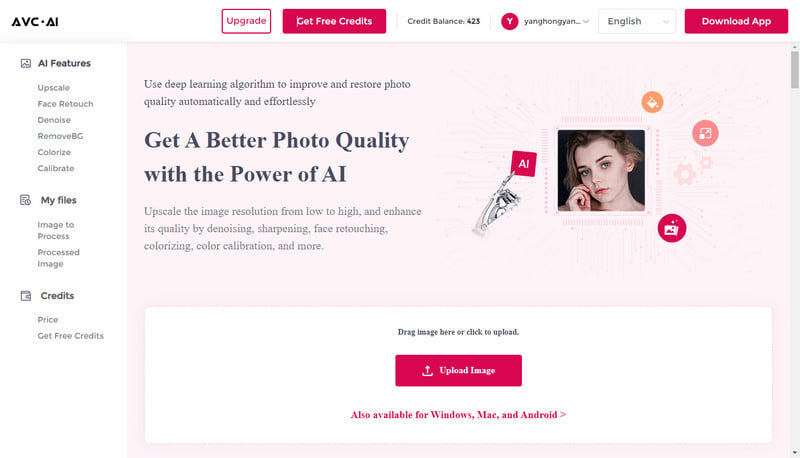 Step 2
Choose the AI Model And Set the Parameter to Start Removing Blur from Images Online
To remove blur from images online for free, you are suggested to select the Upscale model to move on. There are four scale options (from 100% to 400%) available for your choice. You are allowed to increase the resolution of the image while removing the blur from the images. Just select the scale values as you prefer.
If you need to retouch and beautify the face in images, you can switch on the Face Refinement option.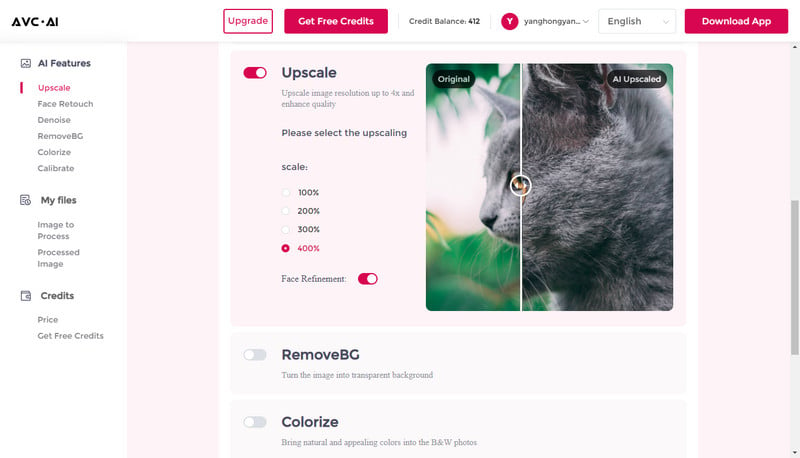 Now, simply click on the Start Processing button to start removing blur from the image automatically.
Step 3
Preview the Result and Save the Deblurred Image to Your Computer
After the image unblurring process is done, you can switch to the Processed Image tab and tap on the Eye icon to preview the original and upscaled bigger images' result by dragging the slider bar.If you are happy with the result, hit on the Download High Quality button to download and save the clear image to your computer. The output format is jpg.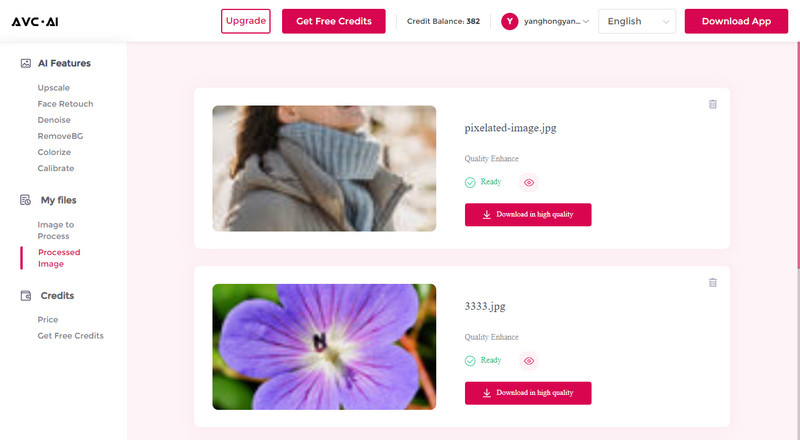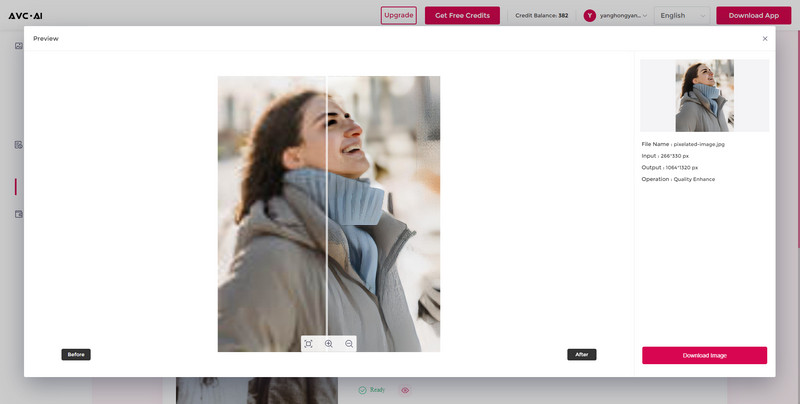 Note: The processed photos will be deleted after 72 hours, please download them to your computer in time.
---
Part 3: What Kind of Blur in Images Can Be Removed
AVCLabs AI Image Blur Removal Online tool has powerful features. It allows you to get rid of motion blur and out-of-focus blur with one click. We will now learn about different types of blur in images that can be removed.
Out-of-focus blur: When shooting at very wide apertures, like f/1.4 or f/1.2, it's easy to miss focus. The depth of field is so shallow that even a slight movement will cause the image to be out of focus.
AVCLabs AI Image Blur Removal Online allows you to bring the focus back instantly. Add depth of field to make images acceptably sharp.
Motion blur: Motion blur occurs when the subject (or camera) is moving fast enough and the shutter speed is slow enough that the camera sensor captures its movement, creating a motion trail.
AVCLabs AI Image Blur Removal Online helps fix motion blur online to restore the natural look of your images without any editing skills.
---
Bonus Tip: Best Image Blur Removing Tool to Crop and Deblur Images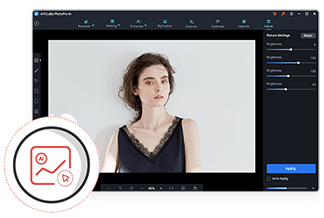 AVCLabs PhotoPro AI
If you wanna get better-quality pictures, process multiple photos more stably or crop photos, the desktop AI Photo Enhancement tool - AVCLabs PhotoPro AI is highly recommended. It offers a wide range of editing tools, a user-friendly interface, and supports partial area editing with selection Tools.
Learn More

---
Conclusion:
That's all. As you can see, removing blur from images online is quite fast and easy with the right tool. AVCLabs AI Image Blur Removal Online uses artificial intelligence and sharpening algorithms to detect out-of-focus and motion blur in your images smartly and helps fix motion blur images and out-of-focus images online for free, turning blurry images into clear ones in one click. Why not get it for free to enhance your blurry images' quality?
---

Video Converter

DVD Converter

Video Editor

Enhance Video Quality

Enhance Image Quality

Remove Objects