Free Alternatives to Topaz Gigapixel AI for Upscaling Images
"What are some free alternatives to Topaz Gigapixel AI for upscaling images?" - Emily
As we all know, Topaz Gigapixel AI is an AI-based image upscaling tool that helps to enlarge the images without losing details, and upscale the photos up to 600%. It ensures unique face refinement and intelligent upscaling and provides crisp and precise results with unparalleled quality. Unfortunately, it can be expensive for non-professionals, which makes it lag.
Are you looking for one of the best free alternatives to Topaz Gigapixel AI for upscaling images, increasing image resolution without ruining your image quality? Lucky you, here we have collected a list of the best Topaz Gigapixel AI alternatives & competitors 2023, including Topaz Gigapixel AI Alternatives Software and Online Free Alternatives to Topaz Gigapixel AI. Read on this post and compare the Topaz Gigapixel AI alternatives and you will find the best Gigapixel AI alternative fit for you.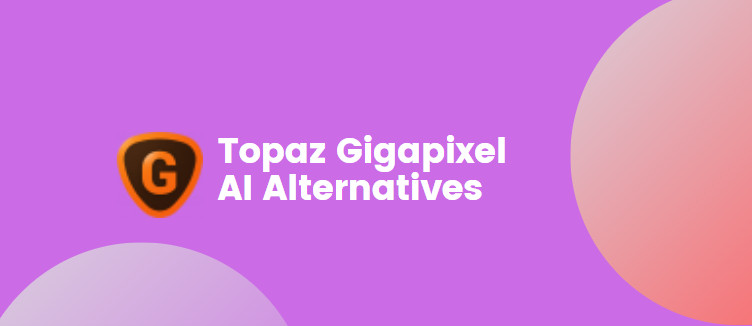 Part 1: 3 Best Online Free Alternatives to Topaz Gigapixel AI
Compared with to-be-installed desktop software, online AI Image Upscaler is more suitable for those users who prefer lightweight tools. Here we just listed the top 3 best online free alternatives to Topaz Gigapixel AI. Let's check them out and find the one that is suitable for you.
1. AVCLabs Online AI Image Enhancement
AVCLabs Online AI Image Enhancement is one of the best online free alternatives to Topaz Gigapixel AI. Much like its competitors, it enables users to free upscale low-resolution images by 2X, 4X automatically in seconds. Driven by artificial intelligence and deep learning, it enlarges the images without losing quality.
Powered by super-resolution AI technology, this Topaz Gigapixel AI alternative online free can enhance the quality of your small and blurry images by reducing noises and sharpening details. Moreover, it helps users to upscale different kinds of images, such as animes, cartoons online for free.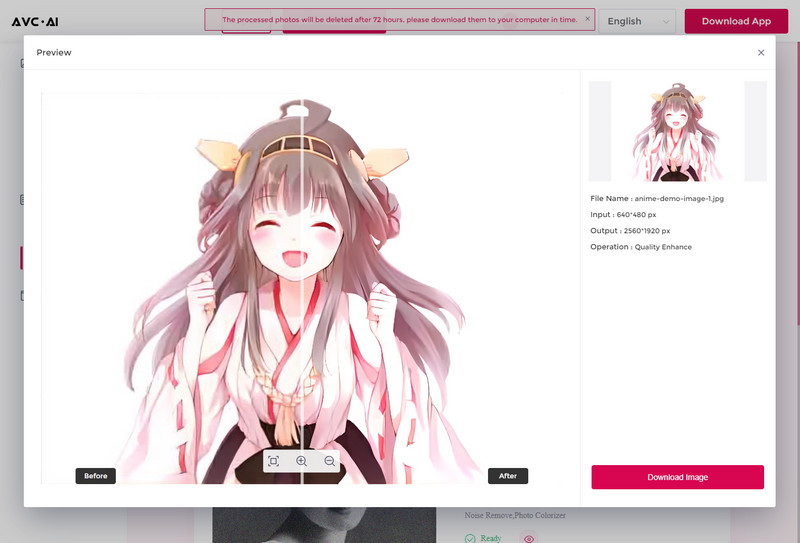 Pros:
• Free to use
• Powerful AI to upscale images without quality loss
• Upscale image online up to 4x
• Come with image background removal feature
• Support unblurring images and sharpen the low-resolution image intelligently
Cons:
• Do not support selecting the image output format
• A good network condition is required during the whole process
---
2. icons8 Upscaler
icons8 upscaler is also a good online free Topaz Gigapixel AI alternative. As an AI-driven image upscaler, it allows users to upscale the images online for free automatically. Based on machine learning, this image upscaler lets users upscale image by 2x or 4x without quality loss. It can also clear up imperfections in your images automatically when used to upscale image resolution.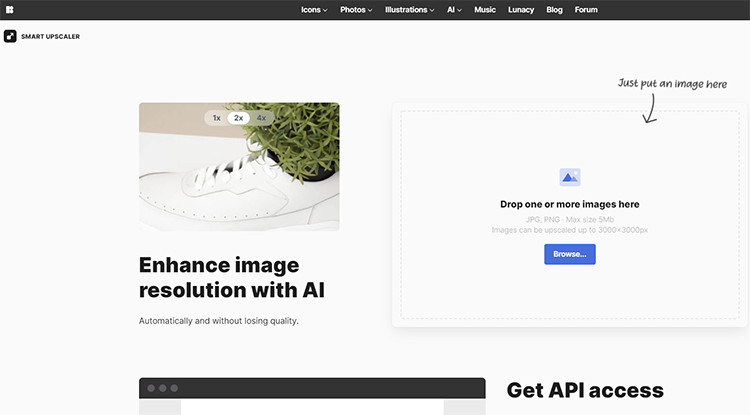 Pros:
• Upscale image without losing quality
• Upscale image up to 4x
• Free to download
Cons:
• There is a limit to the number of images that can be processed for free, you need to subscribe to their premium plans that start at $0.20/per image to upscale more images
• Lack of some advanced features such as image background removal
---
3. Waifu2x
Waifu2x is an image upscaler best for anime-style art powered by AI Deep Convolutional Neural Networks. Besides that, this AI upscaling tool also supports photo processing and could upscale image online. Despite the UI of its website is not very well designed and organized, the functions to upscale an image are quite good. You could enter the URL of online images, or upload from the local file.
This image upscaler online also supports noise reduction, and you can upscale pictures up to 2x, which might be a little bit limited compared to other image upscalers mentioned above.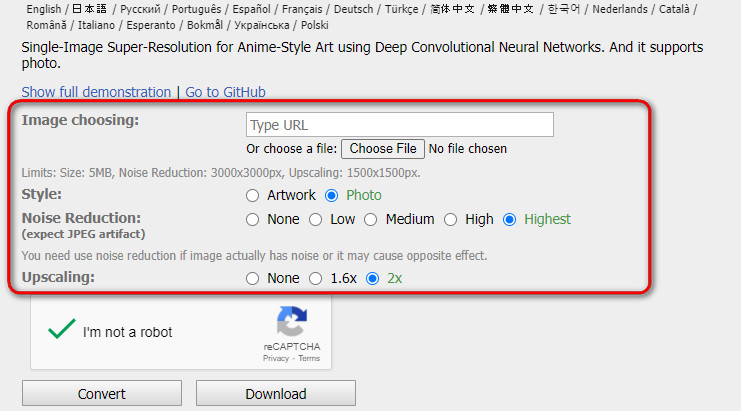 Pros:
• Upscale image online up to 2x free
• Serve as an anime image upscaler
• Support image noise reduction but not JPEG artifact
•Image enhancement functions are really good.
Cons:
• Limited scales options (2x)
---
Part 2: 3 Best Software Alternatives to Topaz Gigapixel AI (Desktop)
Now, if you are a Windows PC or Mac user, then you might need some software alternatives to Topaz Gigapixel AI that will work better on a desktop. Compared to the online Topaz Gigapixel AI alternative, the desktop AI Image Upscaling Software will have more functions and work more stably. In addition, you can use them without an internet connection in case of an emergency. Here we pick the top 3 best Topaz Gigapixel AI alternative apps for Mac and Windows PC for your further reference.
1. AVCLabs PhotoPro AI
When it comes to the best software alternative to Topaz Gigapixel AI, AVCLabs PhotoPro AI tops most of its rivals. This AI image upscaling software employs AI technology to automatically upscale the image to 200%, 300%, and 400% at the same time. It is fully compatible with Windows and Mac OS.
It is not only an image upscaling tool but also an image enhancement tool that comes with advanced features like retouch photos, colorizing black and white images instantly, removing all sorts of noise, removing backgrounds from images automatically. There are 7 powerful AI models for your option: Inpaint AI, Matting AI, Enhance AI, Stylize, Colorize, Upscale, and Adjust Color.
JPG, JPEG, PNG, BMP, JFIF, WEBP formats are supported. Additionally, it also enables users to set the output photo format before upscaling the images.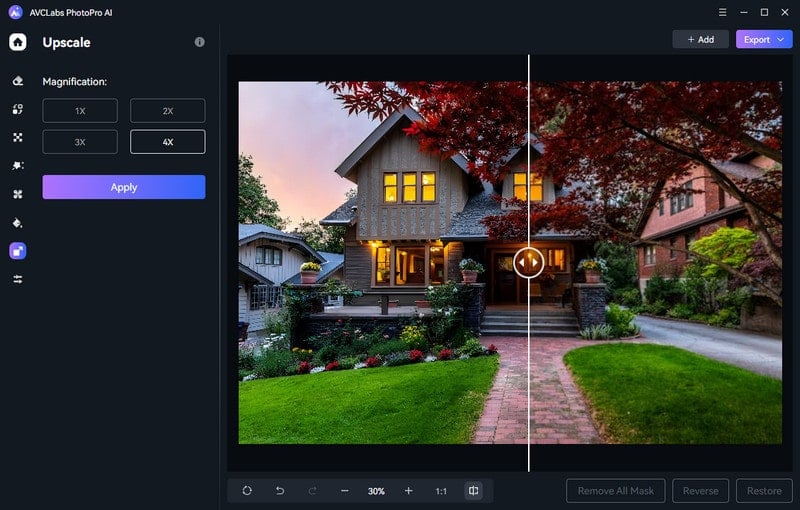 Key Features of AVCLabs PhotoPro AI
Enhance photo quality with advanced technology.
Remove unwanted objects, people, watermarks.
Colorize B&W photos to make it come to life again.
Change the style of image to create unique look.
Upscale photos up to 3x, 4x without losing quality.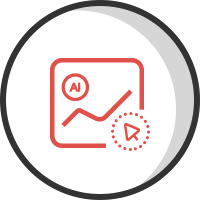 Pros:
• Automatically enlarging the images losslessly to 200%, 300%, and 400%
• Reduce noise and remove blur when increasing image resolution
• Multiple AI models to satisfy users' different needs
• Multiple input and output image formats are supported
• Offer free trial service
• Compatible with Mac and Windows operation system
Cons:
• Show watermark in results under the trial version
---
2. Luminar AI
Luminar is a photo enhancement tool available as a standalone application and as a plugin for Adobe Photoshop and Lightroom, which supports exporting high-res images by restoring lost details, touching up faces, boosting light and colors. Unlike the Topaz plugins, which have to be installed separately, Luminar offers all the features you need with a single installation. It's available for Windows and Mac.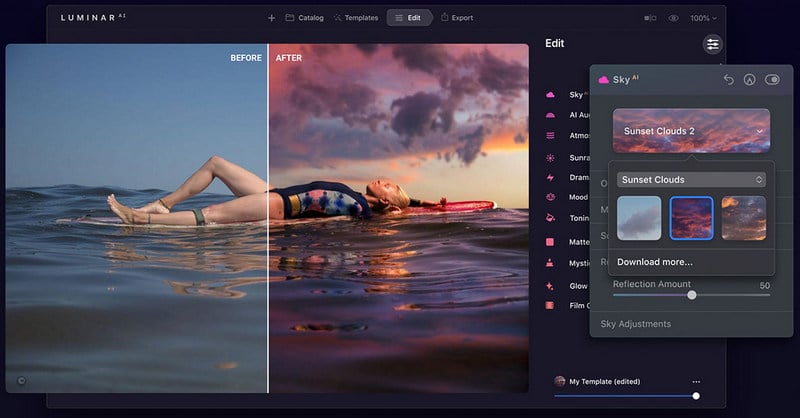 Pros:
• Rely on AI photo editor with more than 20 unique photo effects and editing features for users' different demands
• 80+ Looks and 70+ filters for instant photo editing
• Affordable and subscription-free
• Intuitive, easy workflow for pros and beginners alike
• Available for Windows and Mac
Cons:
• You have to install and open the entire application even if you need a single feature
• Batch processing is a little complicated
• Watermark added to upscaled images
---
3. DVDFab Photo Enhancer AI
Another AI-powered Topaz Gigapixel AI competitor you can refer to is DVDFab Enhancer AI. Whether to upscale images of genres of portraits, landscapes, objects, or figures for personal or business purposes, this AI-powdered photo upscaler can meet all your needs in simple clicks. With the advanced and best image enhancer software Photo Enhancer AI offers, people can upscale their photos of lower resolutions by up to 40x larger, remove all types of noise, and remove motion blurs to show more details. DVDFab Enhancer AI provides its users with 6 powerful AI models including PhotoPerfect, Enlarge, Denoise, Sharpen, Cartoonize, Colorize. However, it only works on Windows PC and is not compatible with Mac.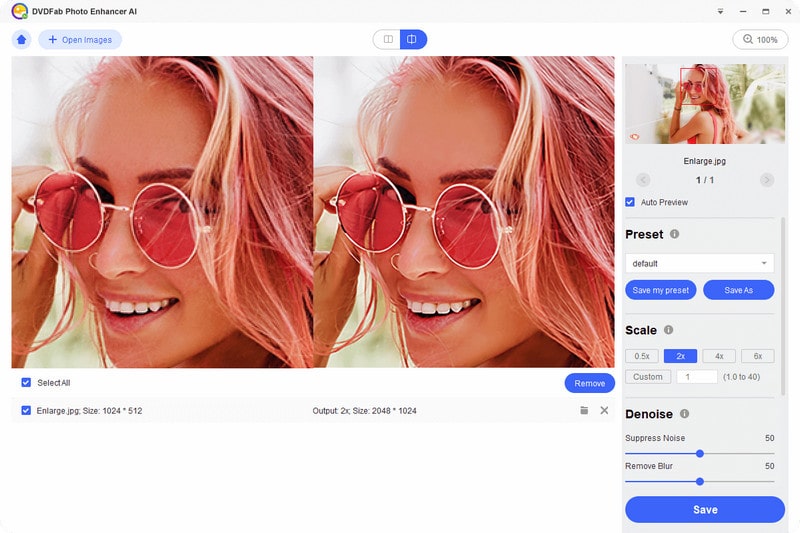 Pros:
• Offer a free trial for 5 photos
• Strong ability to enhance photo resolution
• Suitable for both beginners and experts
Cons:
• Only compatible with Windows
---
Conclusion:
That's all. The list has covered the top 6 Topaz Gigapixel AI alternatives, making you choose easily. As you can see, each Topaz Gigapixel AI alternative has its pros and cons, but if you go on our advice, AVCLabs PhotoPro AI is highly recommended here.
Equipped with multiple AI models, photo enhancement becomes easy. AVCLabs PhotoPro AI mainly offers 3 subscription plans to its users: Monthly Subscription, Annual Subscription, Perpetual Plan. For each subscription plan, there is no limit on the number of photos enhanced. The most popular subscription plan is the $39.95 monthly subscription. If users do not need the program anymore, users are allowed to cancel it at any time before the renewal date. If users find that it is user-friendly and works perfectly and would love to keep using it on the computer, the $169.90/perpetual plan is highly recommended. Before purchasing the program, users can test the full features of the program using the free trial version. Why not get it to explore the amazing features?
---
Photo Editing Software Free Download
---

Video Converter

DVD Converter

Video Editor

Enhance Video Quality

Enhance Image Quality

Remove Objects