2023 Best 10 Video Enhancement Software
Is there any video enhancement software that can increase or enhance the quality of videos?
The poor quality of the recorded videos might be contributed by camera shake, poor lighting, moving objects, wrong focus, incorrect resolution, compression, zoom-in, or scaling footage. How to fix these bad qulaity videos? In another place, you have a collection of homemade videos, music videos, TV shows, animes, commercials, or movie clips that of good quality in the past but very poor at present. How do you make these poor quality videos look better on morden displays?
In the following part, we will show you the best 10 video enhancement software that you can use to improve your video qualiy.
Part 1: Best 5 Video Enhancement Software Powered by AI
In these circumstances, the technology of video enhancement has been playing an important role in improving the visual appearance of the video. In simple terms, video enhancement is a process of improving video quality, from SD to HD, HD to 4K, and up to 8K. So a professional video enhancement software must be featured with upscaling, denoising, deblurring, color grading, adding filters, brightness adjustment, stability improvement, cropping, clipping, and etc.
Video Enhancer AI is an AI-based video quality enhancement software that users deep-learning-based super-resolution technology to enhance video from SD to HD, and from HD to 4K. There is an essential difference between Video Enhancer AI and traditional non-AI-based video enhancement tools that require professional editing skills to enhance the low-quality video itself. On the contrary, Video Enhancer AI, which is equipped with different categories of AI models that are trained by a neural network, can automatically enhance the quality of your footage, TV episodes, movies, or animes, without any further action. Here we pick the best 6 video enhancement software with the AI engine.
1. AVCLabs Video Enhancer AI
Available: Windows 11/10/7 (64bit)
Price: $39.95/Month, $119.95/Year, $299.90/Lifetime
AVCLabs Video Enhancer AI is an AI-based video enhancement application developed by Anvsoft Inc. It is released for expanding the product line of Any Video Converter and providing intelligent AI technology to help video lovers bring their old videos a stunningly new look. How this Video Enhancer AI works? Given input low-quality videos, AVCLabs Video Enhancer AI can use the machine learning that is deeply trained through millions of videos, movies, TV shows, or animes to learn the lost pixels and missing data by analyzing every frame of videos. After it gains "experience", it will be able to accurately predict a high-resolution image and then output the high-quality video by super-resolution, denoising, deinterlacing, sharpening, color enhancement, color correction, interpolation, fusion, scratch removal based on AI modes.
If you have low-quality videos, generally non-standard quality videos, like animes, recordings, old movies, or TV episodes, you can select model "Upscale" to upscale or sharpen these videos from non-standard quality to 480p, from 480p to 1080p, 1080p to 4K. You can select "Multi-frame Enhance" to enhance the video quality, remove motion artifacts, stabilize video shake, remove overlay noise and grain to get more natural results that classical programming cannot easily achieve.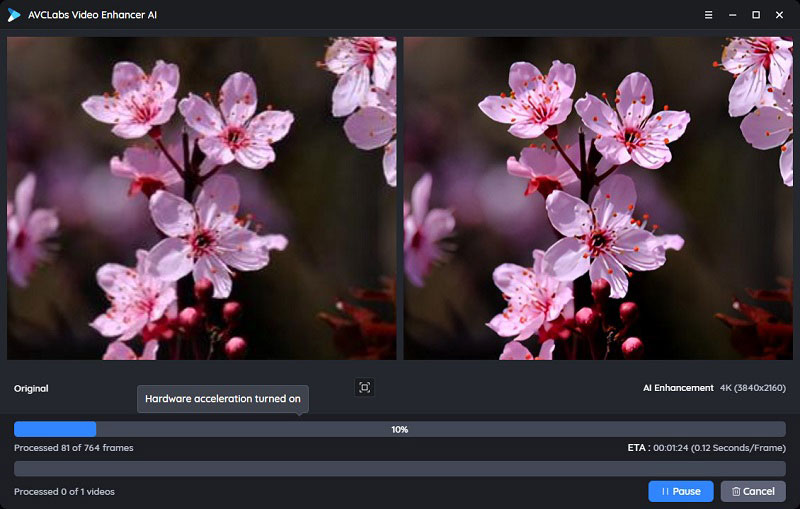 Pros: Use multi-frame convolutional neural network to enhance video quality and upscale video to 4K with great details improved.
Cons: Windows only.
AVCLabs Video Enhancer AI
Enhance the video quality to make them more aesthetically pleasing.
Deblur your footage frame by frame by using machine learning.
Intelligently upscale videos from 480p to 1080p, 1080p to 4K, and 8K.
Upscale low-res videos onto a larger screen without destroying the quality.
Trim your footage frame by frame to save the processing time.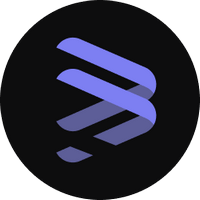 ---
2. Topaz Video Enhancer AI
Available: Windows & Mac
Price: $299.99 for a lifetime license and $99 for an upgrade license
Topaz Video Enhancer AI, one of the best video upscaling software, was developed by Topaz Labs. This Video Enhance AI uses groundbreaking machine learning technology to upscale video footage intelligently, for crisp details and motion consistency up to 8K resolution. The AI processing models of Topaz Video Enhancer AI can be divided into four categories and eleven models tailored to suit different types of footage.
Artemis-LQ: Enhancement and upscaling for low-quality progressive footage with better motion consistency. You can use this for old family recordings, historical footage, etc.
Artemis-MQ: Enhancement and upscaling for medium-quality progressive footage with better motion consistency.
Artemis-HQ: Enhancement and upscaling for high-quality progressive footage with better motion consistency. You can use this to upscale higher-quality footage, like stock video clips, films, and drone footage.
Artemis-AA: You can use this to upscale computer-generated contents, or from line-skipped cameras.
Dione TD, DV, TV: Just as its name implies, you can use it to upscale interlaced video sources, interlaced digital sources such as DV, DVCPRO, DVCAM, and interlaced TV sources.
Gaia-CG: Upscaling for progressive computer-generated content. Use this for digital animations, cartoons, etc.
Gaia-HQ: Standard upscaling for high-quality progressive footage.
Theia-Detail, Theia-Fidelity: Enhancement and upscaling videos at more details or fidelity, with parameters for fine-tuning.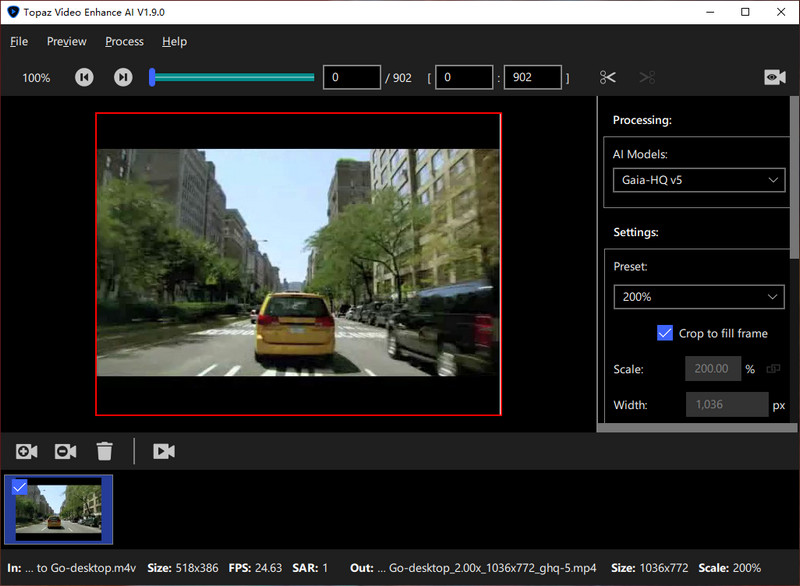 Pros: AI model is well categorized and you can select the best one for different original video files.
Cons: More expensive than rivalries. You need to pay $299.99 for a lifetime license and $99 for an upgrade license.
---
3. DVDFab Video Enhancer AI
Available: Windows
Price: $79.99/month, $109.99/year, $149.99 liftime
DVDFab Video Enhancer AI is an AI-based tool for video quality enhancement and resolution enlargement. It uses the deep learning-based Super-Resolution technology to upscales videos from SD (480p) to Full HD (1080p Blu-ray standard), or from 1080p to 4K. The four AI models including For Movie Video, For Home Video, For Web Video, and For Anime are preset for users to easily select the most appropriate one according to the original file type.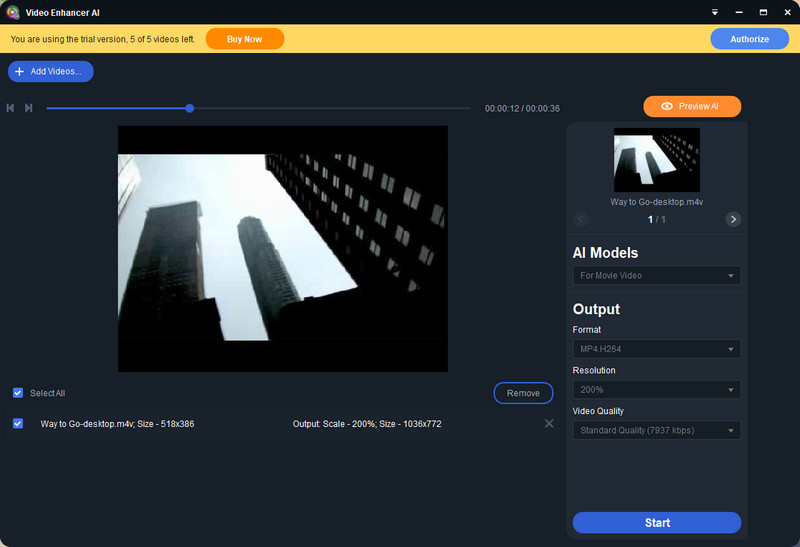 Pros: Intuitive interface and easy to use.
Cons: Windows only and no clipping feature.
---
4. GDFLab pikaVue
Available: online
Price: 300 coins for a 300-second video
GDFLab pikaVue is an online and cloud-based image & video upscaler from Korean. You can visit pikaVue's official website and click "TRY FOR FREE" to sign up by email. After signup, you can log in to open the online video & image upscaler, then drag and drop to upload a video, and finally upscale videos by increasing both the resolution and quality up to 4X the size and up to 4K UHD. To upscale videos with an online video enhancer, you do not need the high-end dedicated graphics cards and powerful CPU, also do not need to download the large installer package from the internet.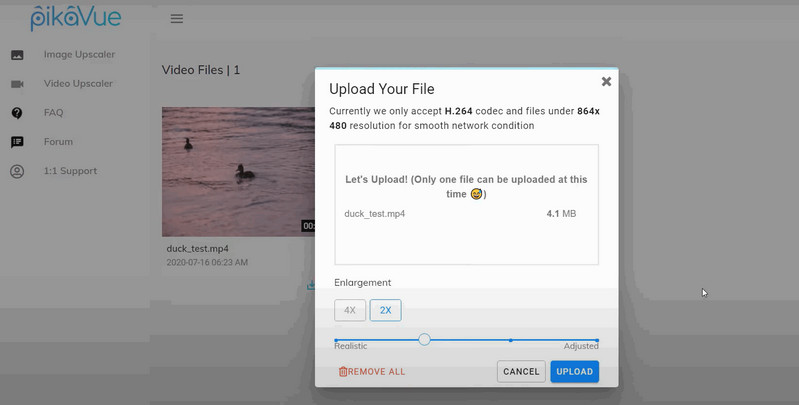 Pros: Easy to use; Cloud-based video upscaler without any hardware limitation.
Cons: There is a limit for input video for stable network conditions. It only accepts videos in H.264/H.265 codec and 864x480 pixel.
---
5. iSize
Available: online
Price: varied
Like GDFLab pikaVue, iSIZE is an online video and image upscaler, using the latest machine learning algorithms, proprietary learning methods, and a library of trained models to upscale videos & images. It is an online upscaler and live on multiple devices. After submitting the encoding request to iSIZE, you need to wait a few minutes until the server renders the final output video. To download the upscaled videos from the server, you need to pay £1.200 at least.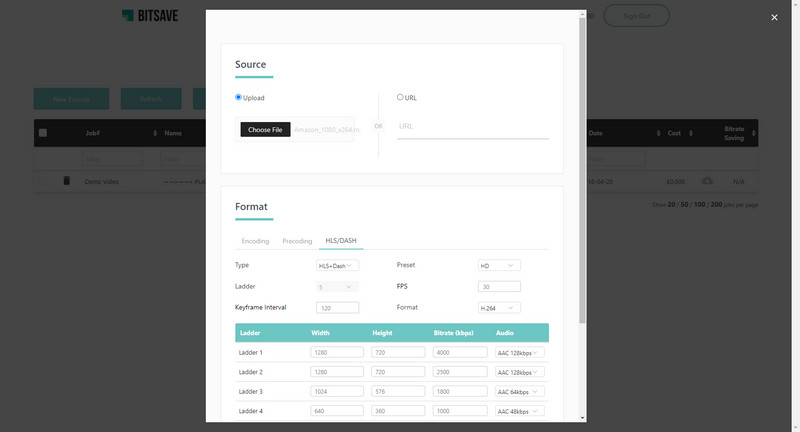 Pros: Online video enhancer AI that upscales video resolution via deep neural networks.
Cons: Not friendly for beginners: you need to pay to download the processed video.
Conclusion
In conclusion, if you have a collection of old homemade videos, music videos, TV shows, animes, commercials, or movie clips of bad quality, the video Enhancement software with AI assist is best for you to bring a second life to your old video. AVCLabs Video Enhancer AI is newly released and free for a limited time, so you can download the beta version to evaluate this new enhancer. Topaz Video Enhancer AI is full-fledged and stable, designed for people to enhance videos in a professional manner. DVDFab Video Enhancer AI is more straightforward and beginner-friendly. If you want to save effort and process time, you can try the online video upscaler.
---
Part 2: Best 5 Video Enhancement Software without AI Engine
AI engine or algorithm is not the only approach to enhance video quality. Besides, you need to purchase a high-end machine and the expensive video enhancer AI to complete this time-consuming task. If you have no adequate budget or want to save effort and processing time, you can choose a video enhancer from dozens of non-AI video enhancer software. Most of them are traditional video editor that requires professional editing skills to improve the video quality.
1. Adobe Premiere Pro
Available: Windows & Mac
Price: $20.99/month
Adobe Premiere Pro is one of the best video editing programs out there, aimed at professionals. Like the other video editing software in the market, Adobe Premiere Pro has a selection of effects you can choose from and apply to your video projects. In addition to standard video editing at which it excels, Premiere Pro comes with Premiere Rush. With this free mobile and desktop video editing app, you can improve video quality by making color corrections & enhancement, and adjusting audio, and using built-in presets. Especially, you can stabilizer technology to smooth out unwanted camera shake in just a few clicks, with precision fine-tuning so you can get exactly the look and feel you want.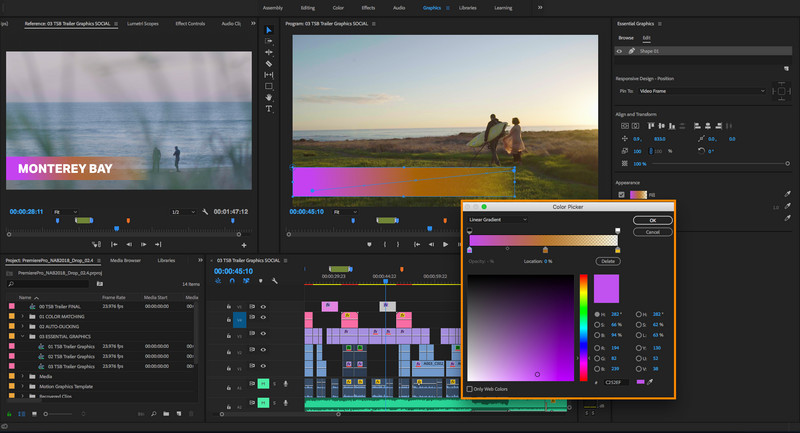 Pros: It is best for an amateur editor who wants to edit personal or business videos, and filmmaker who wants to edit movies.
Cons: Premiere sometimes crashes when working on a large project.
---
2. VEGAS PRO
Available: Windows & Mac
Price: $399
VEGAS PRO is a video editing program with the capability to create web media for YouTube, Vimeo, Facebook, and projects for ourselves, customers as well as educational purposes. It is well suited for any situation where professional-quality video and audio editing, conversion, and manipulation need to be done in an affordable, efficient manner. Vegas Pro also comes with advanced color grading, denoise filter, video filters, and 3rd party add-ons, including NewBlue FX, Vegasaur, and Excalibur, and almost everything you need to do professional and high-quality video and audio.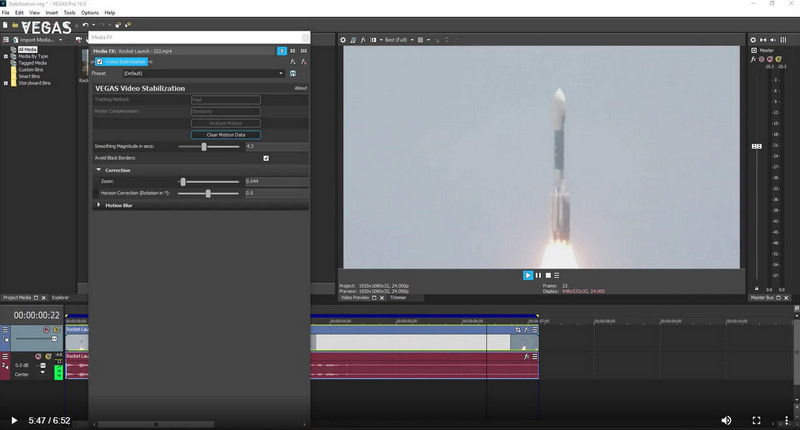 Pros: Fairly intuitive for such a complex program and very easy to use once you learn how to work with it.
Cons: There is often lag in playback and saving changes. No auto-save.
---
3. CyberLink PowerDirector
Available: Windows & Mac
Price: $14.99/month, $51.99/year
PowerDirector is the best-in-class and prosumer editing tool with an intuitive workflow. It is not complicated compared to other video editors. You can not imagine how easy-to-use it is, even for beginners. With a large selection of powerful editing tools that are updated monthly, PowerDirector enables video editing to a professional standard. CyberLink's True Theater Color technology can analyze the color of your footage and enhances aspects like hue, saturation, and brightness. It's a great way to get great Hollywood-style videos. Intelligent Color Correction allows you to quickly and easily match color settings across your entire project, which unifies the look and feel of your video and eliminates a lot of guesswork. Chroma Key is added to replace a green screen background. With a video stabilizer, you can fix or adjust the "shaking" effect in videos.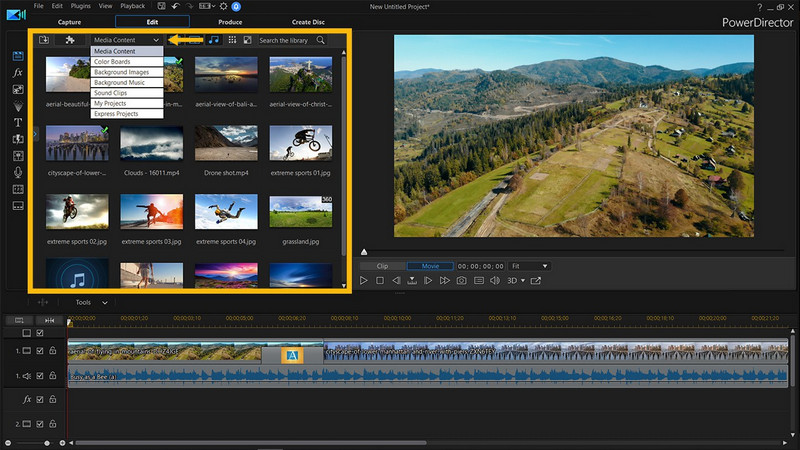 Pros: It is good and cheap than other video editors.
Cons: Crashes on occasion.
---
4. Pinnacle Studio
Available: Windows
Price: $59.95 for Studio, $99.95 for Studio Plus, $129.95 for Studio Ultimate
Pinnacle Studio is one of the oldest digital video editing software originally developed by Pinnacle Systems, and it is one of the first commercially available video editors aimed at the typical home user. It was once discontinued and then acquired by Corel in 2012. Since then, the application has steadily been updated and improved, and once again deserved as the best video editing software. The latest version Pinnacle Studio 24 has a number of new features, including a redesigned title editor, dynamic masking, face tracking, and in-depth keyframing controls.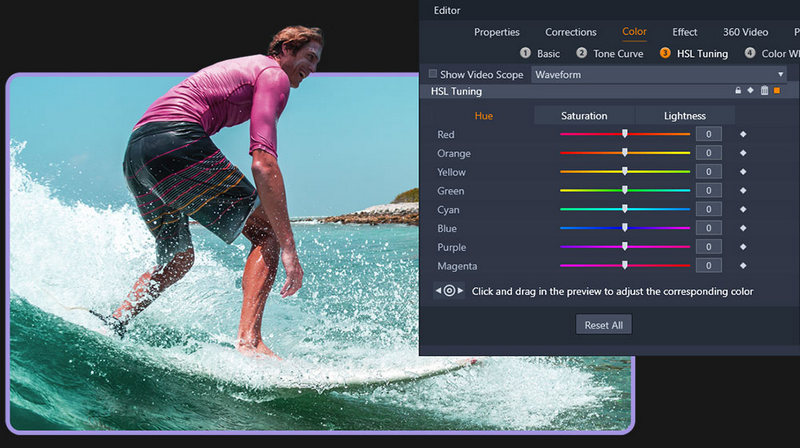 Pros: The best tool for editing multi-cam video captures; Very simple interface and a simple package of tools.
Cons: Sometimes crashes and 4K video editing only available in the Ultimate version.
---
5. Filmora
Available: Windows
Price: $39.95/year, $69.99 for lifetime
Wondershare Filmora is a simple yet powerful video editing software. It's perfect for beginners, novice and casual users to create tutorial videos and camera footage. It works similarly to TechSmith's Camtasia. It comes with many filters, effects, tools (green screen, blending modes) to help you create complex stories with ease. To enhance your stories, you can use Stabilization to eliminate the distracting effects of camera shake, use high-quality color grading presets to change your video's aesthetic, and control the colors in your video by adjusting white balance, lightness, exposure, saturation, and other properties.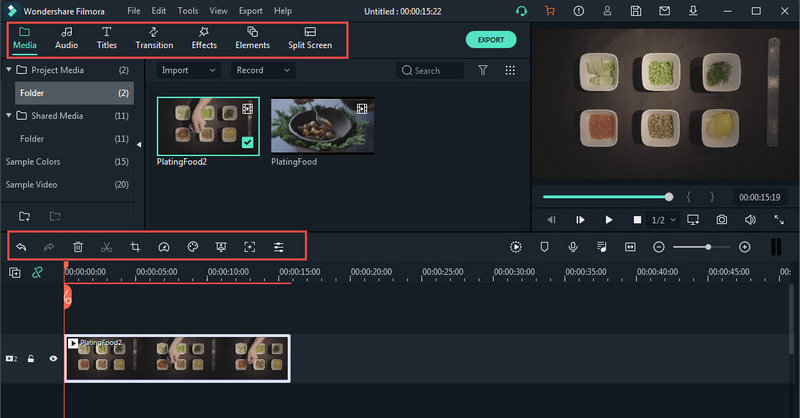 Pros: Easy to use and good for freelancers. Eat less RAM.
Cons: If you want more advanced tools for more complex projects, you should look at the video editing programs that are designed for more experienced editors.
Conclusion
If you are working on video editing, and the footage captured by recorders or cameras are not in bad degradations, you can use these professional video editors to enhance video quality by using color correction, color grading, using stock video and plugin tools, or any other professional editing skills you know. For experienced editor who wants to make professional videos, Adobe Premiere Pro and VEGAS PRO go to them. For the home users, they can choose PowerDirector or Pinnacle Studio. And Wondershare Filmora is better for beginners, novice, and casual users.
Try AVCLabs Video Enhancer AI to upscale your footage and enhance its quality.
---
Highly Recommended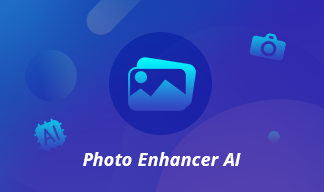 AVCLabs Photo Enhancer AI
AVCLabs Photo Enhancer AI is undoubtedly your best choice ever to upscale the low-res image and enhance its quality. It is an all-in-one AI Image Denoiser, AI Image Upscaler, AI Image Sharper, AI Portrait Photography Enhancer, AI Background Removal, AI Color Calibration, and AI Image Colorizer.
Read More