Four Ways to Watch Netflix Videos on Your Computer: Which One Is the Best?
Netflix becomes a giant among many streaming video platforms. Thanks to its vast library of continually refreshed content and its easy accessibility across different devices, and the growing and high-quality self-produced series, including "House of Cards", "Stranger Things", "Hemlock Grove", "Black Mirror", "The Crown", "The Haunting of Hill House", "Russian Doll" and "Orange Is the New Black".
Outside of TV episodes, there is still enough to explore movies and shows that may not have been found on other streaming platforms. To enhance the viewing experience on Netflix, here we explain four ways to watch Netflix TV episodes and movies on your computer in detail.
Method 1: Watch Netflix Videos with Web Browser
Netflix is available on Windows and Mac computers using Google Chrome, Internet Explorer, Microsoft Edge, Safari, Mozilla Firefox, or Opera browser. The main Netflix.com page displays rows of TV shows and movies for you to browse, search, and playback.
By playing Netflix videos on a web player, you can get immediate and instant access to movies, TV shows, and original programming wherever you are, with no need for disk space or memory space, without worrying about download time. All you need are the internet browser installed on your computer and a stable internet connection for you to watch any video instantly.
To ensure a better viewing experience on the web browser, you are advised to use Microsoft Edge on Windows, and Safari on Mac. Google Chrome and Mozilla Firefox use a software-based DRM system called Widevine, this makes it difficult for people to record Netflix shows and movies with the video screen recording software. What's more, for Windows users, Microsoft Edge is the best browser for Netflix, allowing you to enjoy resolutions of up to 4K.
Pros and cons of watching Netflix videos with the web browser:

You can get immediate access to the videos and instant playback, and the video and audio quality of the videos are also usually high and satisfactory.

Watch Netflix videos on the web browser requires a stable internet connection, a minimum of 2Mbps to watch the HD videos, otherwise, Netflix will fail to load videos.
Highly Recommended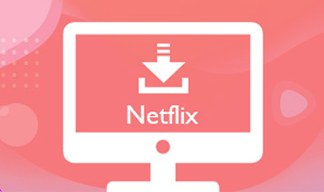 How to Record Netflix Videos in High Quality on PC?
When it comes to recording Netflix videos on PC, you tend to think of all types of video screen recording software. To enhance the experience when you record the videos from Netflix, here we introduce the best two methods that help you successfully record or download Netflix videos to PC.
Read More

---
Method 2: Watch Netflix Videos via Windows 8.1 and 10 App
If you have a computer running Windows 8.1 or Windows 10, you can also download the Netflix app for Windows. On the Windows 10 app, you can stream Netflix videos up to 4K and download titles up to 1080p. Please note that streaming in 4K requires an HDCP 2.2 compliant connection to a 4K capable display, Intel's 7th generation Core CPU, and the latest Windows updates.
If you have an app, you can easily control all menus and get better viewing experiences. First of all, the app is the perfect choice to have quick access to Netflix TV shows and movies with the updated search results and built-in Cortana commands. Then, you can download videos with the app and watch them without an Internet connection, which makes it more appealing for on-the-go users. On the other hand, the desktop app is more user-friendly and features a more seamless browse experience that supports vertical scrolling for categories and horizontal scrolling for items within a category, delivering the optimal navigation model to help you find the content you want with ease.
Pros and cons of watching Netflix videos with the Windows app:

With the updated browsing experience, the Netflix app allows you to watch the vast library of streaming videos on any Windows 10 PC or tablet wherever you are.

Netflix app always gets stuck on the loading screen.
---
Method 3: Watch Netflix Videos via the Dedicated Netflix Video Player
It is fairly well that the Netflix app is available on Windows 10 and 8.1, though you may encounter some errors when opening the app or downloading the titles. However, for Mac owners, there is more to them!It seems that there are no additional ways to stream Netflix videos on Mac OS X other than the web browser (Safari).
To provide a more personalized, customized, and advanced Netflix video player with you guys, and enhance your binge-watching experience, we serve you the free and dedicated Netflix video player, called Binge-Watching Player for Netflix. Within this media player for Netflix, you can watch Netflix Original movies and TV episodes online, or search a video by title, genre, or actor. And you can also customize the advanced capabilities to get a superior binge-watching experience. You can check the key features of Binge-Watching Player for Netflix in the box below.
Key features of Binge-Watching Player for Netflix
Free, simple, powerful, and fast media player for Netflix.
Stop the hated auto-play trailer (video previews) feature.
Watch Netflix videos by using Picture-in-Picture Mode.
Prevent the annoying hover effects on video posters.
More advanced capabilities: skip the intro, auto-play next episode, etc.
In the following section, you can take a look at how to get a superior binge-watching experience from Netflix with the third-party software - Binge-Watching Player for Netflix. It is available for both Windows and Mac OS. The step-by-step tutorial listed below is based on the Windows version. If you're a Mac user, you can take the same steps or go to the User Guide for Mac to learn more details.
Step 1
Launch Binge-Watching Player
Download the installation package of Binge-Watching Player from the download button above. Double-click the setup file to install Binge-Watching Player and launch this video player for Netflix.
Click the "Get Started" button to open Netflix web player, then sign in with your Netflix account from the prompt.
Step 2
Customize the playback settings
Click the "Setting" button in the upper-right corner to customize the playback settings for Netflix. On this setting window, you can prevent trailers from auto-playing and hover effects, auto-skip video intro, and auto-play the next episode in a series.
During watching a Netflix video, you can: click the "
" icon to adjust the play speed, the "
" icon to change the language track and subtitles and the "
" icon to turn on the Picture-in-Picture (PiP) to watch videos in a floating window.
Step 3
Find and delete Netflix viewing history
On Binge-Watching Player, click the "
button in the upper-right corner of the main interface and navigate to "History" to open Netflix viewing history of your profile.
To remove something from your viewing history, click the "
" icon, or click the "Clean All" button to remove all viewing history.
Pros and cons of watching Netflix videos via Binge-Watching Player:

A free and dedicated Netflix video player that fixes all of the most hated problems on the Netflix streaming interface, and pluses a lot of advanced capabilities for playing videos.

No "Download" feature that allows you to watch Netflix videos in the offline mode.
---
Method 4: Watch Netflix Videos without the App and Web Browser
As we mentioned above, you can stream Netflix TV episodes and movies with the web browser, Windows 10 and 8.1 app, and Binge-Watching Player for Netflix. What if the devices you owned are not compatible with the Windows 10 or 8.1 Store version of the Netflix app, and unwilling to use the web browser and the third-party video players for Netflix? For example, you would like to play Netflix videos offline on any media player, on any device.
To do this, all you need is a Netflix Video Downloader with which you can download TV shows and movies from Netflix limitlessly to watch offline later on your computer, mobile phone, or tablet without needing the Netflix app. This is great when you're on the go and don't need to worry about streaming over a cellular network or without internet access on the flight.
Here is how to download TV shows and movies from Netflix on Windows, and you can take the same steps to download Netflix videos on Mac.
Step 1
Run FlixiCam Netflix Video Downloader
Click the Download button above to have the installation package on your Windows 10, 8, 7, Mac OS X 10.11, and above. When the installation process finished, open FlixiCam Netflix Video Downloader.
Step 2
Customize the output settings
You can change the "Download Settings" and "Account Settings" according to your preference.
And you can select "Enable hardware acceleration when available" to enhance the download ability of FlixiCam by using the GPU of the graphics card.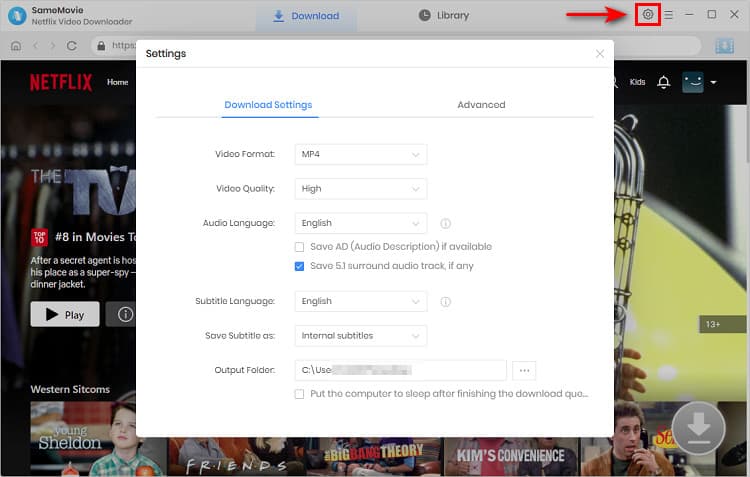 Step 3
Copy and paste URL or search videos of Netflix
FlixiCam supports adding Netflix videos to the program by copying and pasting the video URL and searching the videos of Netflix in the search box.
Then press the "Enter" button on your keyboard, then FlixiCam will load the videos according to the video link or the search keywords.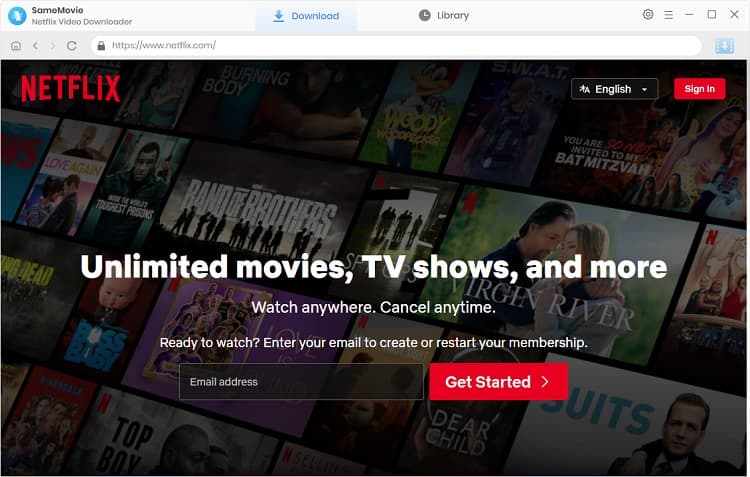 Step 4
Select audio track and subtitle
For Netflix TV shows, you can click the "

" button, then you can get a pop-up window, where requires you to select the season and episodes you want to download. In the lower-left of the prompt, you can click the "Advanced Download" button and select the download quality, audio track, and subtitles specifically.
For Netflix movies, you can click the "

" button to open the "Advanced Download" window.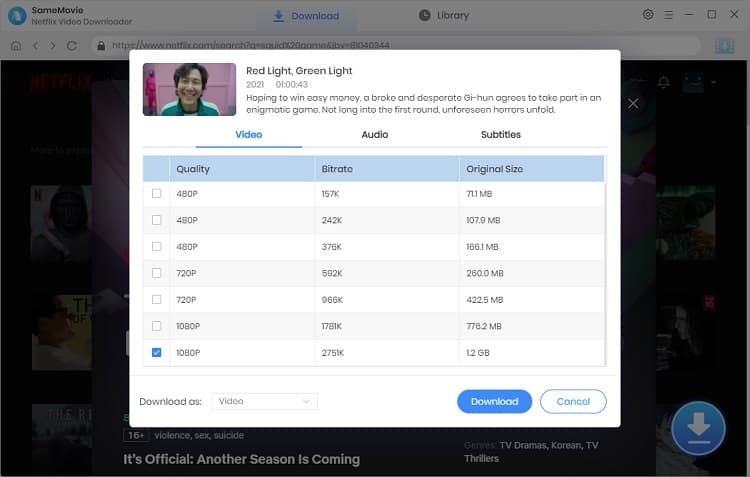 After all settings done, you can click the "Download" button to start downloading the Netflix videos. It will download the Netflix videos in MP4 by default with the HD quality kept.
When it finishes the downloading process, you can check the well-downloaded Netflix video on the "Library" tab.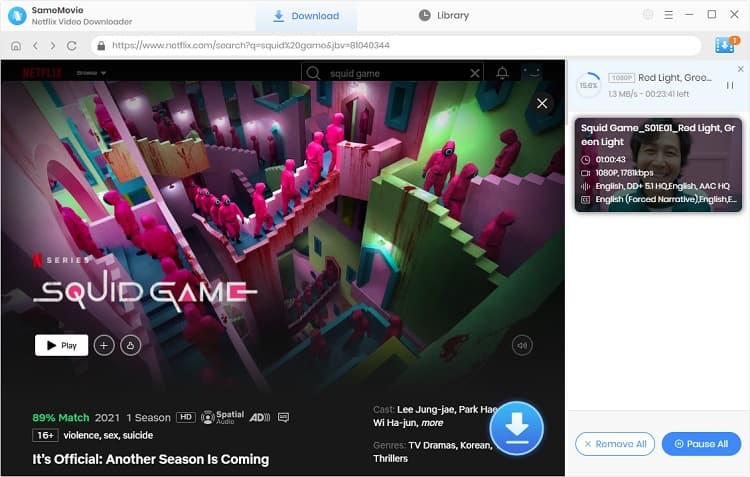 When compared to the other 3 methods, Netflix Video Downloader is the best method to download and watch Netflix videos limitlessly. With Netflix Video Downloader installed on the desktop, you can watch Netflix videos offline on QuickTime Player, VLC media player, or any other media player of your multiple devices. Please note that Netflix Video Downloader is a shareware that provides a free trial version to give you a try before purchase. The trial version only allows you to download the first 5 minutes of each video, so you can purchase a license to unlock the limitations.
If you have a stable internet connection and do not need to download videos for offline viewing, you can keep using the web player or try Binge-Watching Player.
---