The Ascend Mate uses an IPS+ 1080p display powered by a 1.5GHz quad-core processor, making all of the available screen real-estate snappy, responsive, and gorgeous to look at it. The device runs Android 4.1, otherwise known as Jelly Bean, and packs an 8-megapixel rear-facing camera.
Like the Galaxy Note II, the Ascend Mate falls into a new category of devices known as phablets — part phone, part tablet. While many companies have strayed away from using the term on the basis of it sounding utterly ridiculous, it's unquestionably accurate. Claiming to be the world's largest smartphone, Ascend Mate features a staggeringly large 6.1-inch display that brings greater experience on movie watching. You can enjoy the increased display size for reading magazine and newspaper articles, composing emails and watching video. If you want to enjoy Flash movie with the advanced display and need an all-in-one solution for your Ascend Mate, then Any Video Converter Ultimate would be the best choice.
What makes Ascend Mate different?
6.1-inch HD screen is so big that makes the even Galaxy Note 2 look small. While smartphones may be getting thinner and lighter, their overall footprint is larger than ever thanks to the growing trend of massive, 5-inch or larger displays. But Huawei took the concept to a new level with the introduction of the Ascend Mate — an Android smartphone with a staggeringly large 6.1-inch display.
For reference, the screen of the iPhone 5 -- which, remember, is bigger than that of any other iPhone -- is just 4 inches, a full 2 inches smaller than the Ascend Mate's. The Samsung Galaxy Note II, which is such a monster of a smartphone that the press has dubbed it a "phablet" (half-phone, half-tablet), measures its display at "only" 5.5 inches, a mere child's toy next to the Ascend Mate.
Aside from being clearly enormous, the Ascend Mate has some other impressive features: an 8-megapixel rear-facing camera with HDR, a 1.5-GHz quad-core processor, a huge 4050-mAH battery and Android 4.1 Jelly Bean, all of which should hypothetically help it approach the snappy performance of the Note II. And the new feature water resistant makes it through a serious splashing on stage.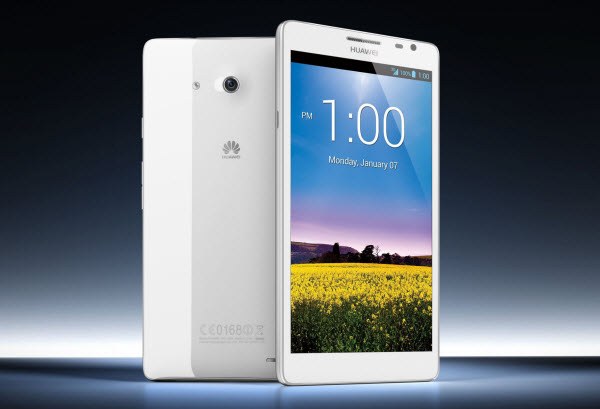 Are you a big-screen phablet fan and want to enjoy your favorite video or DVD movies with your phablet such as Ascend Mate? As we know, Ascend Mate is also a great media player which supports a lot of media formats including files with MP4, H.264, H.263, WMV, DivX, XivD as video format and MP3, WAV, eAAC+, WMA as audio format. If you want to play your movies and videos in other formats on Huawei Ascend Mate, you need a Huawei Ascend Mate Video Converter.
Tips for Showing Best Video Formats Supported by Huawei Ascend Mate:
Video Format: MP4, H.264, H.263, WMV, DivX, XviD
Video Resolution: 1280 x 720 pixels
Audio Format: MP3, WAV, eAAC+, WMA
How to convert video/DVD movie for Ascend Mate?
Any Video Converter Ultimate is an excellent Ascend Mate Video Converter which allows you to enjoy any video or DVD movies as you like on Ascend Mate. Learn step-by-step tutorial below to convert videos for your Ascend Mate.
Step1:
Simply click Add Video Files button to import the video files from your hard drive. If you want to convert DVD movies for your Ascend Mate, please insert your DVD movie disc to the DVD drive and then click Add DVD button to locate.
Step 2:
Click "Output Profile>Android Products" and choose "Customized MP4 Movie(*.mp4)" in the profile drop-down list. For better enjoying videos on Ascend Mate, you can customize video and audio options, such as Video Codec, Video Bitrate, Audio Codec, Audio Bitrate, Audio Channel, Disable Audio, etc.
Video Size: 1280 x 720 pixels Video Bitrate: 2500K or 3000K Frame Rate: 29.97fps or 30fps
Audio Sample Rate: 48000 Audio Bitrate: 128K or 160K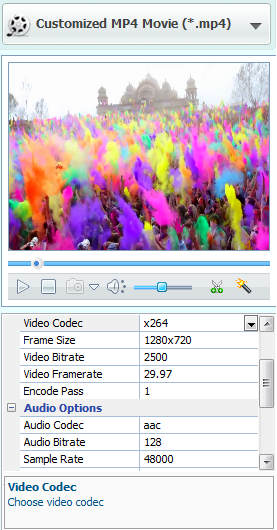 Step 3:
Click Convert Now button to start converting videos or DVD movies for Ascend Mate. Once the conversion is finished, you can click "Output Folder" button on the bottom left to get the output MP4 files. Then transfer the converted videos to your Ascend Mate.
Besides converting videos or DVD movies for Ascend Mate, this powerful Ascend Mate Video Converter also features the functions as capturing & recording video from Netflix and similar feed sites, downloading YouTube videos for offline viewing in batch, converting DVD or videos to handheld & mobile devices, transferring video to DVD Burner to create DVDs, editing video clips with cut, crop, and special effects, and etc.
Related Knowledge -- Phablet
Phablet is a portmanteau of the words phone and tablet. It is an informal term for consumer touch-screen devices with screens that are between five and seven inches. These devices combine the capabilities of a smartphone and mini tablet — and occasionally incorporate a stylus. A phablet is larger than most smartphones, but not as large as a tablet or mini-tablet.
The first phablet was the Dell Streak released on 4 June 2010. Other notable examples include the Droid DNA, Samsung Galaxy Note and Note II, the LG Optimus Vu and Intuition, and the Micromax canvas2 A110 and Micromax A101.